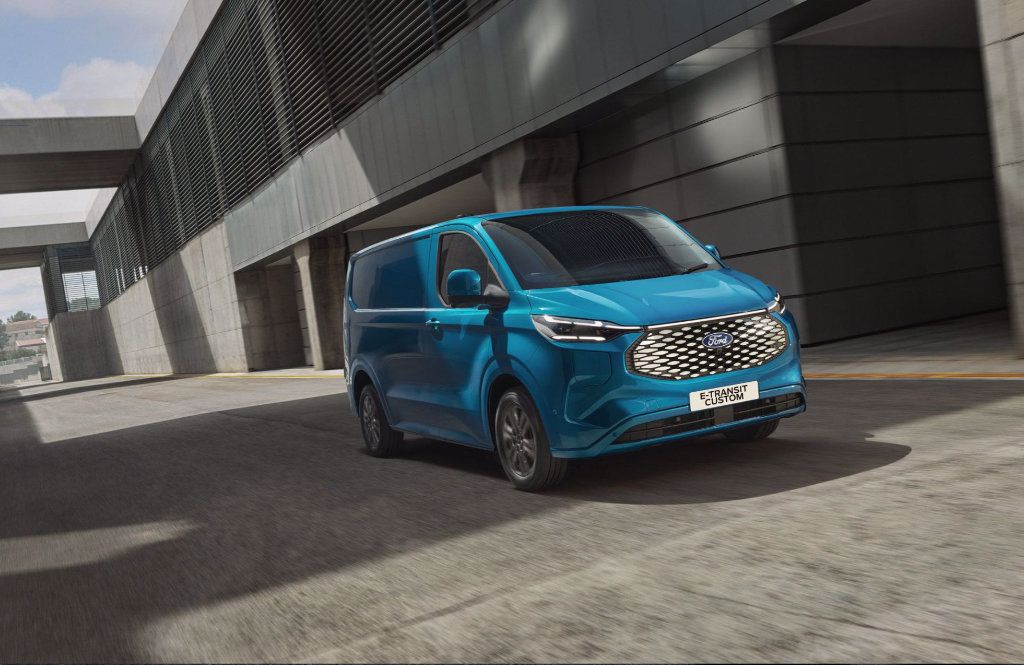 ALL-NEW, ALL-ELECTRIC E-TRANSIT CUSTOM
Ford News
FORD PRO REVEALS EXCITING NEXT PHASE OF ELECTRIFICATION JOURNAll-NewEY WITH ALL-NEW, ALL-ELECTRIC E-TRANSIT CUSTOM
Ford Pro accelerates its drive towards electrification by unveiling the all-electric successor to Europe's best-selling van – the all-new Ford E-Transit Custom
Supported by the full Ford Pro ecosystem of software and services, E-Transit Custom promises unmatched customer experience and maximum productivity
No-compromise, all-electric commercial vehicle to offer targeted range up to 380 km, full towing capability and DC fast charging, plus unique Pro-Power Onboard feature
Further details to be announced in September, with production beginning in 2023 at upgraded Ford Otosan facility in Kocaeli, Turkey
DUNTON, UK, May 9, 2022 – Ford today took another major step in its electrification transformation as Ford Pro revealed first details of the all-new, all-electric, E-Transit Custom.
Following hot on the heels of the all-electric E-Transit that began production in March this year – and the first of four further all-electric commercial vehicles Ford Pro will introduce by 2024 – the E-Transit Custom is designed to set a new benchmark in Europe's one-tonne van segment and help businesses across the region to effortlessly make the change to electrified vehicles.
The all-electric successor to Europe's best-selling van 1,2 is designed from the ground-up to fit seamlessly into the Ford Pro ecosystem of productivity-enhancing, value-adding solutions. E‑Transit Custom will be supported by Ford Pro software, charging, service and financing solutions via one comprehensive platform to help increase uptime and reduce operating costs.
The newest addition to Ford Pro's electrified line-up will be a key component in Ford's bold commitment to reach zero emissions for all Ford vehicle sales in Europe and carbon neutrality across its European footprint by 2035.
E-Transit Custom's no-compromise all-electric architecture helps to deliver a targeted driving range of up to 380 km, 3 DC fast-charging, and full towing capability– not to mention dynamic new styling. In addition, the new van will help take productivity to new levels using sophisticated connectivity to enable always-on relationships.
"This is a watershed moment for commercial vehicle operators in Europe, and another hugely significant realisation of our Ford Pro ambitions," said Hans Schep, general manager, Ford Pro, Europe. "Europe's best-selling van just went all-electric and – supported by our unique Ford Pro one-stop-shop of productivity-boosting services – the operating benefits this will bring to business across Europe cannot be overstated."
Electric power at your fingertips
Among features developed using in-depth insights from van users to ensure E-Transit Custom provides an unmatched customer experience, ProPower Onboard technology will provide exportable power for tools, lights and devices while on site.
With an expressive and sculptural design, E-Transit Custom is a working vehicle that companies of all sizes will be proud to have as a trusted partner for their business. Featuring rebalanced proportions, a confident stance and full LED lighting, the new model will set a distinctive new design benchmark in the one-tonne segment.
Earlier this year Ford announced that by 2024, four further new all-electric vehicles will join the E-Transit two-tonne van as part of the iconic Transit family, including the Transit Custom and Transit Courier vans, as well as Tourneo Custom and Tourneo Courier people movers.
The all-electric E-Transit Custom will enter production in the second half of 2023 – part of the most extensive Transit Custom range ever offered to European customers. Further product details will be released in September this year.
All Transit Custom variants will be built by Ford Otosan – Ford's joint venture in Turkey – at their Kocaeli site, the home of European Transit manufacturing, delivered as part of Ford Otosan's previously announced €2 billion investment in its facilities. Ford, SK On Co., Ltd. and Koç Holding also recently signed a Memorandum of Understanding for an industry-leading joint venture to create one of Europe's largest commercial vehicle battery facilities, targeting a mid-decade production start and an annual capacity in the range of 30 to 45 Gigawatt hours.
# # #
1 Austria, Belgium, Britain, Czech Republic, Denmark, Finland, France, Germany, Greece, Hungary, Ireland, Italy, Netherlands, Norway, Poland, Portugal, Spain, Romania, Sweden, Switzerland, Turkey.
2 Based on S&P Global New Registrations data 2021.
3 Officially homologated energy efficiency figures will be published closer to on-sale date. Targeted range and charge time based on manufacturer tested values and calculation according to the WLTP combined drive cycle. Actual range varies with conditions such as external elements, driving behaviours, vehicle maintenance, lithium-ion battery age and state of health.
The declared WLTP fuel/energy consumptions, CO2-emissions and electric range are determined according to the technical requirements and specifications of the European Regulations (EC) 715/2007 and (EU) 2017/1151 as last amended. The applied standard test procedures enable comparison between different vehicle types and different manufacturers.
News
Welcome to Bright Ford
Whether you're at Bright Ford to buy something special, or just to browse, we want to offer you a very personal level of service that leaves you with a great impression and gives you an experience that shows we genuinely care about your needs.
Bright Ford is part of the Bright Motor Group, one of Ireland's most trusted vehicle retailers and our Ford dealerships are located in Airside (Swords), Phibsborough, Rialto in Dublin & Bray in Wicklow.
New and used Ford cars and vans
Discover the wide selection of new Ford cars at Bright Ford. We supply the full range including the Ford Fiesta, Focus, Puma, Mondeo, Kuga, Mustang Mach-e and more!
You can also explore the full range of Ford commercial vehicles in all of our locations. From the iconic Ford Transit van range to the Ranger pick-up truck, you'll find a Ford commercial vehicle to suit every job.
Selling quality new and used vehicles is what we pride ourselves on. We guarantee that every vehicle is prepared to the very highest standard at our own Service and Preparation Centres. You can browse our stock of "Bright As New", approved used Ford cars and vans online - get in touch today to arrange a test drive or to learn more about any of our vehicles.
Ford Service
We provide a full Ford Aftersales facility. Whatever your requirements, our team of qualified Ford technicians are here to help keep your vehicle in peak condition, with the use of sophisticated on-board diagnostic software to ensure that your vehicle is properly cared for. We have invested heavily in workshop training, both in-house and externally, to make sure that our technicians are kept up-to-date with all the latest advances in vehicle technology.