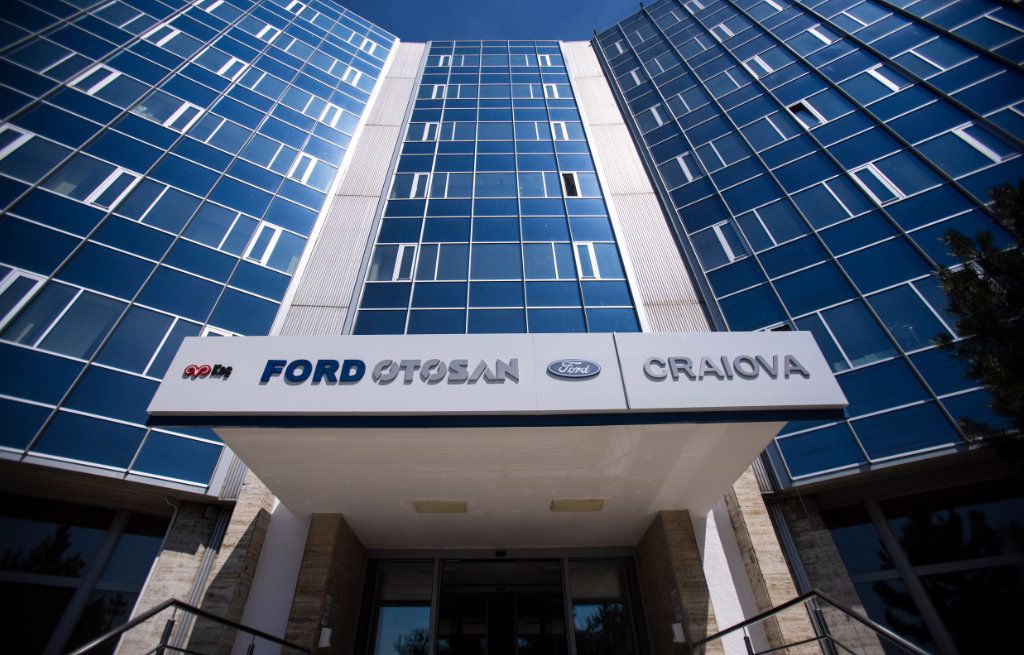 FORD OTOSAN TAKES FORD PLANT IN CRAIOVA INTO ELECTRIC FUTURE
Ford News
Ford continues its accelerated transformation, Craiova Manufacturing Plant ownership transferred to Ford Otosan
Ford Otosan plans to invest €490 million in the plant over the next three years to expand production growth and play a key role in Ford's electrification journey in Europe
Next-gen Transit Courier to be produced in Craiova in 2023 followed by all-electric versions in 2024
Ford Otosan to continue producing the Ford Puma, and the new all-electric Puma in 2024
CRAIOVA, Romania, July 5, 2022 – Continuing Ford's accelerated transformation of its business in Europe to achieve an all-electric future, today Ford of Europe officially transfers ownership of its Romanian plant to Ford Otosan. Following a previous announcement and regulatory approval, the agreement between Ford of Europe and Ford Otosan has now been finalised.
By combining the Craiova plant's production power with Ford Otosan's extensive experience in commercial vehicle design, engineering, and manufacturing, the facility will play a key role in Ford's electrification and commercial vehicle growth plans for Europe.
"Ford is leveraging strategic partnerships to better utilise resources by sharing investments and benefitting from a wider pool of expertise thereby boosting its electric and commercial vehicle capacity in Europe," said Stuart Rowley, chair, Ford of Europe.
Ford Otosan also announced it plans to invest €490 million in the plant over the next three years to expand production growth.
The next generation Transit Courier, including the van and combi models, designed and engineered by Ford Otosan, will be produced in Craiova and launched in 2023, and all‑electric versions will start production in 2024.
Ford Otosan will continue producing Ford's best-selling European passenger vehicle, the Puma, at the Craiova facility and will start building the new all-electric Ford Puma in 2024.
"With the Craiova plant acquisition, Ford Otosan is expanding its manufacturing experience and capabilities into international operations," said Güven Ozyurt, general manager, Ford Otosan. "Highly skilled employees of Craiova and their outstanding work in producing some of the most appreciated Ford products will build on Ford Otosan's success story. Craiova will benefit from the skill base and knowledge transfer through Ford Otosan's experience in designing, engineering, and building commercial vehicles as well as electrification."
Ford is also moving forward with a $2 billion conversion of its Cologne, Germany, operations to begin producing electric passenger vehicles, starting in 2023.
Only a few days ago, Ford confirmed that it has chosen its plant in Valencia, Spain, as the preferred site to assemble vehicles based on a next-generation electric vehicle architecture. Pending product approval, the Valencia plant could produce breakthrough electric and connected vehicles beginning later this decade.
By 2026, Ford in Europe plans to sell 600,000 electric vehicles annually, supporting the global goal of 2 million-plus annual production of electric vehicles by 2026.
Ford officially took over the facility in Craiova 14 years ago, investing $2 billion and transforming it into a state-of-the-art manufacturing site.
This agreement will strengthen Ford Otosan's position as the largest commercial vehicle producer in Europe and will expand its operations internationally to create sustainable value to its shareholders. With the addition of the Craiova plant, Ford Otosan's total annual production capacity will exceed 900,000 vehicles.
Ford Otosan, the Ford joint venture in which Ford and Koç Holding are majority shareholders, is one of the longest running and most successful joint ventures in the global auto industry.
At the official handover event held in Craiova today and attended by the Prime Minister of Romania and representatives from Ford Otosan, Rowley said, "The Craiova operations have a strong record of delivering world-class competitiveness and flexibility as evidenced by the success of the Ford EcoSport, the Puma and the 1.0-litre EcoBoost engine in the European market.
"This initiative will support Ford's strategy to continue building a thriving business in Europe and to deliver against the target of zero emissions for all vehicle sales and carbon neutrality across its European footprint of facilities, logistics and suppliers by 2035."
# # #
Dealer News
Welcome to Bright Ford
Whether you're at Bright Ford to buy something special, or just to browse, we want to offer you a very personal level of service that leaves you with a great impression and gives you an experience that shows we genuinely care about your needs.
Bright Ford is part of the Bright Motor Group, one of Ireland's most trusted vehicle retailers and our Ford dealerships are located in Airside (Swords), Phibsborough, Rialto in Dublin & Bray in Wicklow.
New and used Ford cars and vans
Discover the wide selection of new Ford cars at Bright Ford. We supply the full range including the Ford Fiesta, Focus, Puma, Mondeo, Kuga, Mustang Mach-e and more!
You can also explore the full range of Ford commercial vehicles in all of our locations. From the iconic Ford Transit van range to the Ranger pick-up truck, you'll find a Ford commercial vehicle to suit every job.
Selling quality new and used vehicles is what we pride ourselves on. We guarantee that every vehicle is prepared to the very highest standard at our own Service and Preparation Centres. You can browse our stock of "Bright As New", approved used Ford cars and vans online - get in touch today to arrange a test drive or to learn more about any of our vehicles.
Ford Service
We provide a full Ford Aftersales facility. Whatever your requirements, our team of qualified Ford technicians are here to help keep your vehicle in peak condition, with the use of sophisticated on-board diagnostic software to ensure that your vehicle is properly cared for. We have invested heavily in workshop training, both in-house and externally, to make sure that our technicians are kept up-to-date with all the latest advances in vehicle technology.