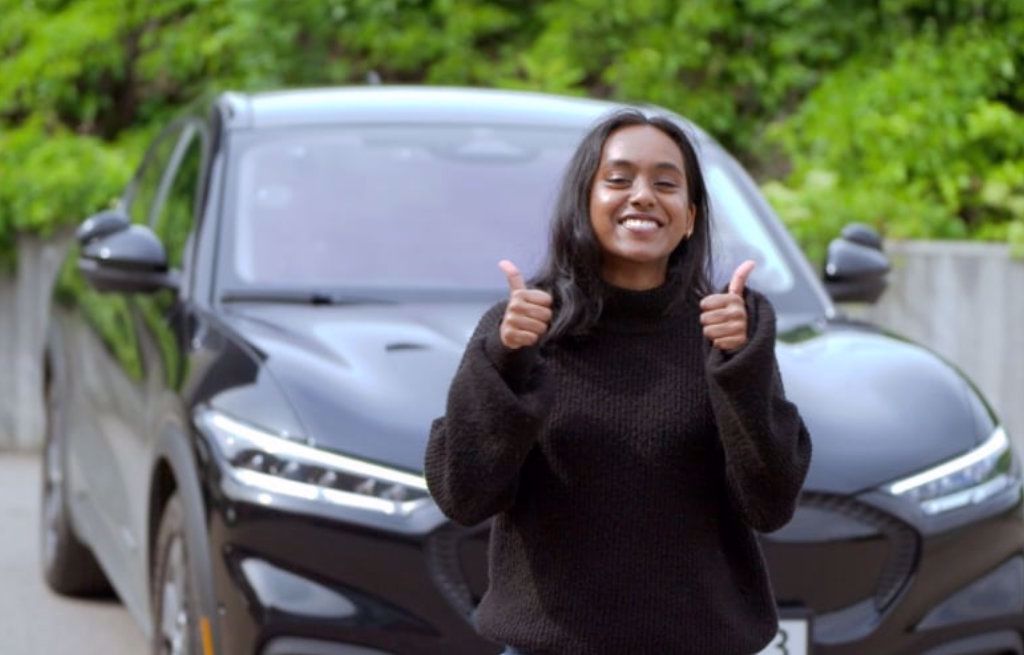 NEW DRIVERS PREPARE FOR THE ELECTRIC FUTURE
– FORD MUSTANG MACH-E IS HELPING THEM GET THERE FAST
Driving schools are using the Mustang Mach-E to teach "Generation E" how to drive
Many learner drivers currently getting behind the wheel for the first time will only ever drive electric cars once they obtain their licences. 1 Three schools in Norway and one in the Netherlands are leading a revolution in driver training for "Generation E", picking the all-electric Ford Mustang Mach-E as the perfect car for their students.
For instructors and driving school owners, the vehicle's long all-electric driving range coupled with lower operating costs make it a great addition, while its eye-catching design and sleek looks make it head-turning advertisement for the school. 2 There are advantages for learner drivers too; learning in the Mustang Mach-E could help drivers pass their driving test with fewer lessons. 3 When taking the test in the Mustang Mach-E, drivers are allowed to utilise the driver assist technology on board, such as for automatic parking and hill starts. 4
Another key benefit of Mustang Mach-E is that instructors can easily adjust the car's settings according to the student's wishes, in terms of how responsive the accelerating and braking should be. The vehicle's ease of use, including the large interior screen and one-pedal driving, is also attracting older learners who previously had opted not to learn to drive.
The use of electric vehicles by driving schools is even changing the way driving is taught, with instructors teaching new drivers important efficiency techniques that help to extend a vehicle's range. For many "Generation E" drivers – who are more often finding electric vehicles in their households – this new way of learning and the experience they have of Mustang Mach-E is helping to reinforce their belief in an electric future.
Driving into the future
Ford is committed to making more electric vehicles available to customers. By 2026, Ford in Europe plans to sell 600,000 electric vehicles annually, supporting the global goal of two million-plus annual production of electric vehicles, also by 2026.
The company recently joined 27 companies in a petition to ensure all new cars and vans in Europe are zero emission from 2035 and called for targets to grow electric vehicle charging infrastructure in Europe to keep pace with electric vehicle growth rates.
Quotes
"The next generation of drivers will have a big say in how quickly electric vehicles replace petrol and diesel vehicles. Taking the driving test can be an intimidating challenge for many people, but the Mustang Mach-E is helping to make it easier and more fun to learn to drive. The joy the car brings to new drivers is so satisfying to see. It makes me wish I'd learned to drive in such a car."
Martin Sander, general manager, Ford Model e Europe
"The Mustang Mach-E fills the student driver with confidence from the moment they get in. There are many systems on board that make driving easier. The driver can focus on the road and they develop a greater awareness of the road and traffic at an earlier stage in the learning process. I'm planning to add another Mustang Mach-E to my fleet due to student demand."
Frank Massop, owner, Frank Massop Driving School, Winterswijk, The Netherlands
"The first car I drove was petrol, but this is the first time I have driven an electric car. The Mustang Mach-E is amazing to drive. You just jump right in and start driving. It's very easy to keep the car on the road."
Erik, student driver, Norway
Notes
1 Country regulations apply. Drivers who obtain their licence in an electric vehicle are eligible to drive electric vehicles and internal combustion engine vehicles with automatic transmissions only.
2 In accordance with the Worldwide Harmonized Light Vehicles Test Procedure (WLTP). A range of up to 610 km (intended target value according to WLTP) can be achieved with a fully charged battery – depending on the existing series and battery configuration. The actual range may vary due to various factors (e.g. weather conditions, driving style, route profile, vehicle condition, age and condition of the lithium-ion battery).
3 Based on the estimate of Frank Massop, from Frank Massop Driving School.
4 The requirements and regulations of driving tests vary from country to country.
News
Welcome to Bright Ford
Whether you're at Bright Ford to buy something special, or just to browse, we want to offer you a very personal level of service that leaves you with a great impression and gives you an experience that shows we genuinely care about your needs.
Bright Ford is part of the Bright Motor Group, one of Ireland's most trusted vehicle retailers and our Ford dealerships are located in Airside (Swords), Phibsborough, Rialto in Dublin & Bray in Wicklow.
New and used Ford cars and vans
Discover the wide selection of new Ford cars at Bright Ford. We supply the full range including the Ford Fiesta, Focus, Puma, Mondeo, Kuga, Mustang Mach-e and more!
You can also explore the full range of Ford commercial vehicles in all of our locations. From the iconic Ford Transit van range to the Ranger pick-up truck, you'll find a Ford commercial vehicle to suit every job.
Selling quality new and used vehicles is what we pride ourselves on. We guarantee that every vehicle is prepared to the very highest standard at our own Service and Preparation Centres. You can browse our stock of "Bright As New", approved used Ford cars and vans online - get in touch today to arrange a test drive or to learn more about any of our vehicles.
Ford Service
We provide a full Ford Aftersales facility. Whatever your requirements, our team of qualified Ford technicians are here to help keep your vehicle in peak condition, with the use of sophisticated on-board diagnostic software to ensure that your vehicle is properly cared for. We have invested heavily in workshop training, both in-house and externally, to make sure that our technicians are kept up-to-date with all the latest advances in vehicle technology.