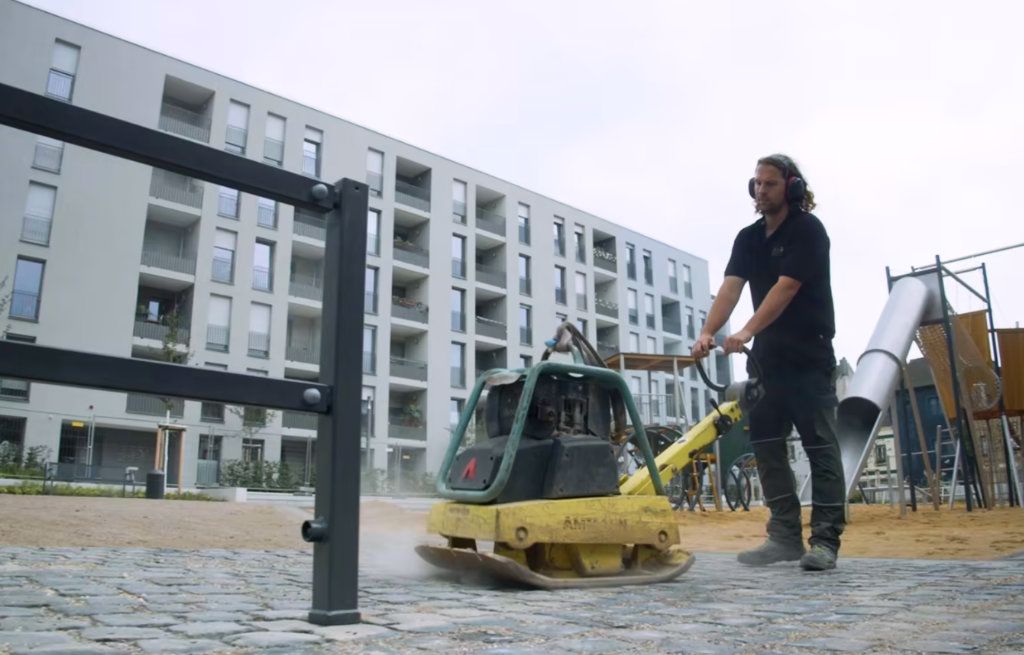 FORD PRO TOOL TRACKING TECH COULD SAVE FIRMS €1000S
Ford News
Bluetooth™ tracking technology could put an end to missing tools
Working on-site often requires that employees come equipped with an array of specialist tools. However, forgetting any of those tools at the end of the day can be a costly exercise in terms of money and time. In fact, experts estimate the cost to businesses as €450 a year – per van. 1
Engineers in Aachen, Germany, have completed a pilot project for Ford Pro that could enable companies to monitor the location of their tools and machines at all times, using Bluetooth™ connectivity and GPS tracking. 2 The system uses special devices placed inside toolboxes and on equipment to connect to company vehicles and a central server.
These tracking devices enable each vehicle to remind drivers when a tool is not in the vehicle and may have been left behind on-site. The tracking also enables companies to know where every tool or machine is at any given time and can coordinate with employees to transport specific tools to other sites when they are urgently needed.
In addition to the cost of replacing the missing tools, businesses would also benefit from employees not losing time by having to check or search for tools manually or pick up forgotten tools. Administrators save time by not having to check required inventory, while the system enables more efficient forward planning, with the right tools loaded into vans for the coming workdays.
How it works
Each tool, machine and piece of equipment is fitted with a tracking device that is waterproof and can handle extreme temperatures. The devices connect to a central server that can be accessed by all company employees, both at the office and on-site: using a computer, the vehicle's in-car screen or the dedicated app on a tablet or smartphone.
Tools can be searched for and located based on "vehicle", "storage", "tool type" and "tool name". A live map also shows the location of all the company's equipment, while tools can be listed as "working", "broken" or in "maintenance".
When a vehicle is loaded, each tool is displayed on the in-vehicle screen and is allocated to being in that specific vehicle. At the work site, as the vehicle is unloaded, the screen shows both columns, "loaded" and "unloaded" – meaning at the end of the day, anything still in the "unloaded" column has potentially been left behind.
A live list of tools on board enables faster loading and checking of the vehicle's inventory. Having the status of all the company's equipment accessible at a central location enables more efficient transportation of equipment between sites and easier job planning with assigning tools to specific jobs. If a tool is left in a vehicle overnight, the driver receives a theft alert when any tools are taken out of the vehicle.
Three companies based in the Cologne area helped to test the feasibility and applicability for vehicle fleets of varying sizes and workers in different industries, including construction and renovations, plumbing and bathrooms, and gardening and landscaping. Ford Pro plans to conduct more research in different markets ahead of making the service available to customers in the near future.
Ford Pro helps businesses thrive
Ford Pro is the manufacturer's new worldwide sales and servicing business centred around improving commercial vehicle customers' productivity with world-class vehicles and cutting-edge products and services.
The company is helping businesses thrive by enabling customers to find the best charging strategy for their electric fleets and developing digital solutions to increase uptime and lower operating costs. Ford Pro has also launched the all-electric Ford E-Transit and the all-electric Ford E-Transit Custom.
Ford engineers are also researching into how geofencing can enhance the driving experience, reduce the risks for all road users and improve urban environments. The Geofencing Speed Limit Control system under trial with Ford E-Transit vehicles in Cologne creates a virtual area where vehicles slow down automatically. Geofencing is also being trialled to enable the Ford Transit Custom Plug-In Hybrid electric vehicle to automatically run in zero-emission electric-drive mode whenever the vehicle enters a low‑emission zone, to help improve air quality in cities.
Quotes
"Even the most attentive worker can leave behind a toolbox at the end of a long day or forget a hand tool when rushing to another job. On busy sites, tools can sometimes get mixed up or be stolen if left overnight. As work projects often have tight schedules, spending time to replace lost equipment can cause a cascade of problems, with every delay costing time and money."
Walter Pijls, supervisor, CV Ecosystems, Research and Advanced Engineering, Ford of Europe
"The misplacement of just one tool can throw a whole workday into disarray. This tool tracking solution is a great example of how enhanced connectivity and smart software can help businesses and reduce downtime, while enabling workers to fully focus on the job at hand."
Jeremy Gould, director, Ford Pro Software, Ford of Europe
"Before, we had an inefficient paper-trail of logbooks and inventory lists, and it was a serious challenge locating things. Not only can we now easily keep track of all our equipment, we have the benefit of data, where we can see which tools are being used and how often, which tools we need more of and which tools are reaching the end of their lifecycle."
Dennis Schmidt-Demel, project supervisor, Maintenance, Demel Garten- und Landschaftsbau
***
Notes
1 The potential financial saving, as calculated by the chair of marketing at RWTH Aachen University, is estimated at approximately €38 per vehicle per month. Also, workers are estimated to save around an hour per week by not having to check or search for tools, while administrators are estimated to save almost two hours per week through more efficient coordination of tools and vans.
2 This communication feature is currently not available for purchase.
Bluetooth™ is a registered trademark of Bluetooth Inc.
News
Welcome to Bright Ford
Whether you're at Bright Ford to buy something special, or just to browse, we want to offer you a very personal level of service that leaves you with a great impression and gives you an experience that shows we genuinely care about your needs.
Bright Ford is part of the Bright Motor Group, one of Ireland's most trusted vehicle retailers and our Ford dealerships are located in Airside (Swords), Phibsborough, Rialto in Dublin & Bray in Wicklow.
New and used Ford cars and vans
Discover the wide selection of new Ford cars at Bright Ford. We supply the full range including the Ford Fiesta, Focus, Puma, Mondeo, Kuga, Mustang Mach-e and more!
You can also explore the full range of Ford commercial vehicles in all of our locations. From the iconic Ford Transit van range to the Ranger pick-up truck, you'll find a Ford commercial vehicle to suit every job.
Selling quality new and used vehicles is what we pride ourselves on. We guarantee that every vehicle is prepared to the very highest standard at our own Service and Preparation Centres. You can browse our stock of "Bright As New", approved used Ford cars and vans online - get in touch today to arrange a test drive or to learn more about any of our vehicles.
Ford Service
We provide a full Ford Aftersales facility. Whatever your requirements, our team of qualified Ford technicians are here to help keep your vehicle in peak condition, with the use of sophisticated on-board diagnostic software to ensure that your vehicle is properly cared for. We have invested heavily in workshop training, both in-house and externally, to make sure that our technicians are kept up-to-date with all the latest advances in vehicle technology.