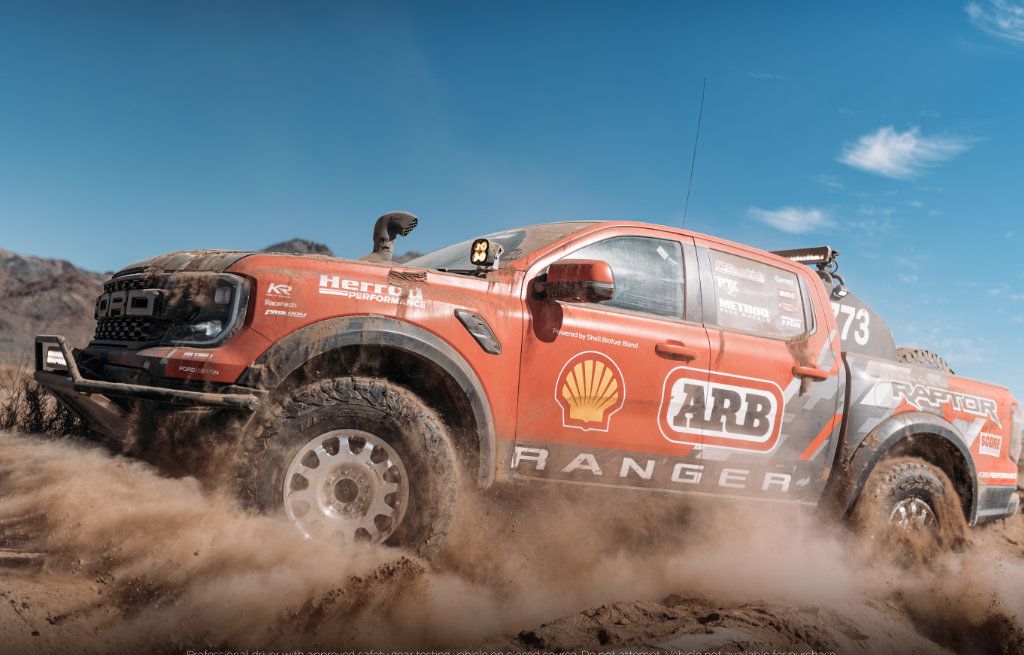 FORD'S NEXT-GENERATION RANGER RAPTOR READY TO TACKLE TOUGH TERRAIN OF PUNISHING BAJA 1000
Ford News
Next-Generation race-prepped Ranger Raptor1 to take on SCORE International Baja 1000 race in November
Ranger is a global icon for Ford and competing at the Baja 1000 with the Next-Gen Ranger Raptor showcases Ford's commitment to racing Ranger globally
Ranger Raptor will be racing on Shell low-carbon biofuel, highlighting low-carbon alternative fuels that can reduce greenhouse gas (GHG) emissions compared to conventional fuels
Melbourne, AUSTRALIA, November 1, 2022 – Ford announced today that a Next-Generation Ranger Raptor will be its latest off-roading vehicle to tackle the SCORE International Baja 1000 – one of the toughest off-road races in the world. The Ranger Raptor will be racing on a low-carbon biofuel, demonstrating the potential of these fuels in the most demanding environments.
Ford Performance worked with Australia's Kelly Racing to build the Baja-ready Ranger Raptor and U.S.-based Lovell Racing to develop and race the truck at Baja, which begins on Nov. 18. Lovell Racing, led by multi-time off-road champion and Off-Road Motorsports Hall of Famer Brad Lovell, is one of Ford Performance's key off-road teams.
Ranger has long been a global icon for Ford and this vehicle was built and tested in Australia before being brought over to the U.S. for final development and testing before the endurance race.
"By entering this event, we're building on the hundreds of thousands of kilometers of development testing and pushing the Ranger Raptor to new extremes," said Brian Novak, Off-Road Motorsports Supervisor, Ford Performance.
"The Baja 1000 is a demanding event and a well-known proving ground for off-road vehicles," he added. "We are excited to compete in this extreme event with Ranger Raptor."
The Baja 1000, held on the Baja California Peninsula, is considered one of the world's most prestigious off-road races, attracting competitors from around the globe eager to take on its miles of treacherous desert terrain, steep drops and tough climbs.
In the past, both the F-150 Raptor and Ford Bronco have successfully raced at Baja. Whether it was a stock 2017 F-150 Raptor finishing on the podium before driving an additional 400 miles home, the Bronco R race prototype's development and verification of the current production Bronco or even hailing all the way back to the legendary 1969 overall win, there's hearty history at play for Ford trucks.
Ford Performance believes the Ranger Raptor is up for the challenge. It is built to the rules of SCORE's stock class, which are meant to show off the capability of the stock street trucks.
The Ranger Raptor will use Shell's one-third blend of biofuel – with its mix of ethanol and bionaphtha.
"Demonstrating low-carbon fuels in performance settings like the Baja 1000 can help bring biofuels and other clean energy technologies to scale more quickly, and help to make them more available and affordable for everyone," said Cynthia Williams, Global Director of Sustainability, Compliance and Homologation at Ford.
Ford is working to achieve carbon neutrality globally across its vehicles, operations and supply chain no later than 2050 and to reach science-based interim targets by 2035. As Ford launches electrified versions of its most popular nameplates, the company continues to research and develop alternative fuel options across all of its vehicles, including performance racing, to provide customers with efficient, low-carbon alternatives. Alternative fuel vehicles can reduce GHG emissions compared to conventional fuel equivalents on a well-to-wheels basis, which includes emissions from both producing and consuming the fuels.
Watch the Baja-ready, Next-Gen Ranger Raptor being built and put through its paces during its shakedown before the event here: https://youtu.be/XIHDEhRzIvA.
DISCLAIMER
1 Race-prepared Ranger Raptor is not available for sale to the general public.
News
Welcome to Bright Ford
Whether you're at Bright Ford to buy something special, or just to browse, we want to offer you a very personal level of service that leaves you with a great impression and gives you an experience that shows we genuinely care about your needs.
Bright Ford is part of the Bright Motor Group, one of Ireland's most trusted vehicle retailers and our Ford dealerships are located in Airside (Swords), Phibsborough, Rialto in Dublin & Bray in Wicklow.
New and used Ford cars and vans
Discover the wide selection of new Ford cars at Bright Ford. We supply the full range including the Ford Fiesta, Focus, Puma, Mondeo, Kuga, Mustang Mach-e and more!
You can also explore the full range of Ford commercial vehicles in all of our locations. From the iconic Ford Transit van range to the Ranger pick-up truck, you'll find a Ford commercial vehicle to suit every job.
Selling quality new and used vehicles is what we pride ourselves on. We guarantee that every vehicle is prepared to the very highest standard at our own Service and Preparation Centres. You can browse our stock of "Bright As New", approved used Ford cars and vans online - get in touch today to arrange a test drive or to learn more about any of our vehicles.
Ford Service
We provide a full Ford Aftersales facility. Whatever your requirements, our team of qualified Ford technicians are here to help keep your vehicle in peak condition, with the use of sophisticated on-board diagnostic software to ensure that your vehicle is properly cared for. We have invested heavily in workshop training, both in-house and externally, to make sure that our technicians are kept up-to-date with all the latest advances in vehicle technology.