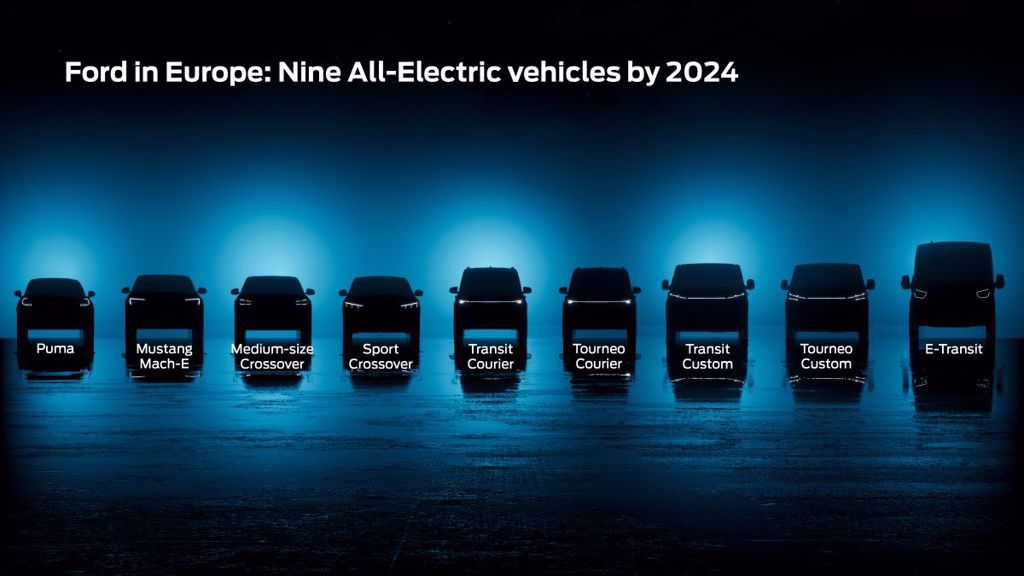 FORD CREDIT FOCUSES ON ALL ELECTRIC FUTURE AS BUSINESS CELEBRATES 2 MILLIONTH CUSTOMER MILESTONE
Ford News
Wednesday 2nd November, London – Ford Credit, the financial services arm of Ford Motor Company, is pleased to announce it has reached the 2 million customer milestone for its industry-leading flexible Options product in the UK.
As the first automotive finance company to offer flexible Personal Contract Purchase (PCP) products in the UK, Ford Credit has a long history of supporting customers with its innovative car financing products and services.
Nearly 30 years later, as it celebrates it 2 millionth customer milestone, Ford Options remains at the forefront of consumer car finance, providing drivers with flexibility and support to meet their ever-changing needs.
An all-electric future
At present, the business' primary focus is on supporting customers through the current cost-of-living crisis, helping them keep their vehicles and stay on the road as they navigate potential changes to their financial situation.
Looking to the future, however, Ford Credit is focused on creating finance solutions that meet the needs of consumers looking to transition to an electric vehicle.
The business is developing its Options product to offer more flexibility, including different terms so that consumers can enjoy the long-term benefits of EVs more easily. While some EVs have higher upfront costs than their petrol or diesel equivalent, many drivers are unaware that their total cost of ownership can be more attractive over the long-term, particularly with the price of gas rising, higher maintenance costs and additional charges on petrol and diesel cars, i.e. ULEZ, etc.
Ford Credit's flexible finance options can help with the initial upfront cost of an EV, as well as providing additional protection against the risk of vehicle depreciation.
Ford Credit is also piloting a range of products to support with the transition to electric vehicles more broadly, including financing options for EV accessories, such as home charging units, and subscription services.
Net zero goals
These initiatives are part of Ford's broader push towards an 'all-electric' future in the coming years.
Ford will launch three new electric cars, in addition to Mustang Mach-E already available, and four electric commercial vehicles in Europe by 2024, with plans to sell over 600,000 EVs across the region by 2026. Together, these initiatives will help Ford achieve its goal of zero emissions for all vehicle sales and carbon neutrality across its European footprint of facilities, logistics and suppliers by 2035.
Commenting, Carlos Treadway, CEO of Ford Credit Europe, said:
"Customers' needs are changing - the way they want to purchase their vehicles and engage with Ford Credit is changing as are the types of vehicles they are choosing. But we know customers; we've been doing this for a number of years supporting over two million customers with our Options product. We're continually looking ahead and already learning from our first electric Mach-E customers to understand their needs. Alongside Ford, we are helping customers transition to electric with advice on total-cost-of-ownership and charging solutions, and not just that but we'll support them through the ownership cycle.
"As vehicles become more connected we're also exploring how to best support other non-vehicle services customers desire that can be enabled through the car. As I said there are other companies that provide auto financing but there's not companies that know Ford customers like we do."
In recognition of reaching its 2 millionth customer milestone, Ford Credit celebrated by awarding the first 30 customers past the 2 million mark a refund on the first monthly payment of their finance package.
News
Welcome to Bright Ford
Whether you're at Bright Ford to buy something special, or just to browse, we want to offer you a very personal level of service that leaves you with a great impression and gives you an experience that shows we genuinely care about your needs.
Bright Ford is part of the Bright Motor Group, one of Ireland's most trusted vehicle retailers and our Ford dealerships are located in Airside (Swords), Phibsborough, Rialto in Dublin & Bray in Wicklow.
New and used Ford cars and vans
Discover the wide selection of new Ford cars at Bright Ford. We supply the full range including the Ford Fiesta, Focus, Puma, Mondeo, Kuga, Mustang Mach-e and more!
You can also explore the full range of Ford commercial vehicles in all of our locations. From the iconic Ford Transit van range to the Ranger pick-up truck, you'll find a Ford commercial vehicle to suit every job.
Selling quality new and used vehicles is what we pride ourselves on. We guarantee that every vehicle is prepared to the very highest standard at our own Service and Preparation Centres. You can browse our stock of "Bright As New", approved used Ford cars and vans online - get in touch today to arrange a test drive or to learn more about any of our vehicles.
Ford Service
We provide a full Ford Aftersales facility. Whatever your requirements, our team of qualified Ford technicians are here to help keep your vehicle in peak condition, with the use of sophisticated on-board diagnostic software to ensure that your vehicle is properly cared for. We have invested heavily in workshop training, both in-house and externally, to make sure that our technicians are kept up-to-date with all the latest advances in vehicle technology.