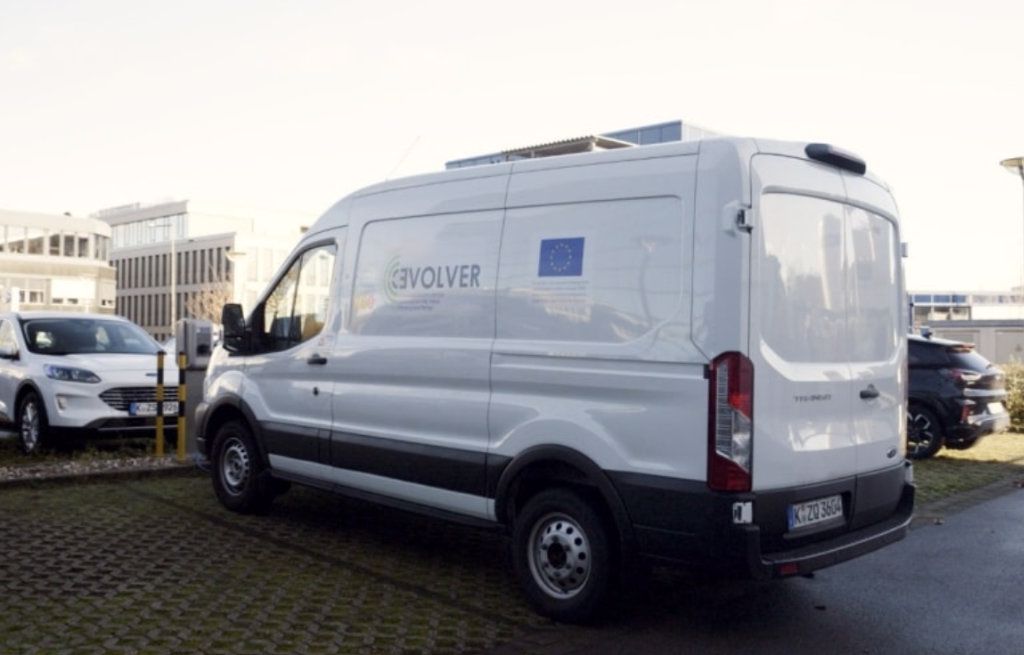 FORD ENGINEERS DISCOVER BEST WAY TO IMPROVE ELECTRIC VEHICLE RANGE WHILE ENSURING DRIVERS AND PASSENGERS STAY WARM
Ford News
Ford engineers find that heating surfaces in electric vehicles, such as mats and door panels – rather than using aircon – could help extend range
This could offer drivers five per cent extra range on a typical charge compared with using aircon, heat from which is more easily lost when windows or doors are opened
Heated surfaces were tested in an all-electric Ford E-Transit van on delivery routes where drivers may open and close the doors hundreds of times a day
Engineers also identified opportunities to extend range, reduce energy consumption through eco-routing, cooling system modifications and powertrain conditioning
The research was part of the European Commission's Connected Electric Vehicle Optimised for Life, Value, Efficiency and Range project (CEVOLVER). By 2026, Ford plans to sell 600,000 EVs in Europe each year
COLOGNE, Germany, Feb. 22, 2023 – What is the most energy-efficient way to stay warm? As the cost of heating our homes rises, it is a question on many people's minds. Ford engineers were tasked with answering the same question as part of a project to help improve electric vehicle (EV) range.
When it comes to heating electric vehicles, warm air can be blown into the cabin using aircon. Alternatively, surfaces can be heated. These can be surfaces with which occupants come into direct contact, or they could be panels that radiate heat towards the driver and passengers.
Both require battery power, but the engineers discovered that with heating surfaces the energy consumption for cabin heating could be reduced by 13 per cent compared to a standard aircon – and could extend EV range by five per cent for a typical charge. 1 It is a difference that could add up to hundreds of extra kilometres annually.
"We all know that if the doors or windows are opened when it is colder outside, the temperature inside a vehicle drops. This is especially true for delivery vans as drivers make frequent drop‑offs and the heat generated via aircon is lost more quickly, while heated surfaces stay warm," said Markus Espig, systems engineer, Propulsion Systems Engineering, Ford Research and Innovation Centre Europe. "Reducing energy use not only improves range, it also cuts costs and helps ensure that the way we travel is more sustainable."
The research was conducted as part of the European Commission's Connected Electric Vehicle Optimised for Life, Value, Efficiency and Range project (CEVOLVER) project that ran from October 2018 to October 2022. 2 The project was designed to inform how new EVs are built and help create software updates for EVs already on the road. Results from the heat management testing have fed into Ford's development of future vehicles.
By 2026, Ford in Europe plans to sell 600,000 EVs annually, supporting the global goal of two million-plus annual production of EVs, also by 2026.
How the test worked
Engineers fitted out an all-electric Ford E-Transit with heated armrests, floor mats, door panels, sun visors and a panel below the steering wheel. 3 The test involved parcel deliveries, special goods deliveries and a craftsman's one–day job 350 km away, on roads in and around Cologne, Germany. The testing took place in winter and summer, on dry and wet roads, and in heavy rain and wind, reflecting Ford's unparalleled experience of van buyers' needs.
The research also showed that changes to weather, traffic and road conditions can affect range. Incorporating this data into the range calculator could help to predict range more accurately in real time. For commercial vehicles, this aggregated driving data could be used as a 'fleet range predictor', to estimate the energy demand for a specific route.
Further technologies tested by Ford engineers that could offer significant energy-saving and time-saving improvements included:
A heat exchanger that takes heat waste from the electric drive unit and uses it to heat the cabin and/or the battery pack
A battery cooling system that enables efficient cooling and pre-conditioning of the battery pack
Eco-routing in combination with assured charging calculates the optimal route, including the charging stops, to get the most out of the vehicle's range
Smart fast charging pre-cools or pre-heats the battery before the next fast-charging event
Powertrain conditioning function keeps the components of the electric drive unit at the most energy-optimal temperature
The CEVOLVER research also follows testing by Ford into how energy consumption can be reduced on EVs, such as by using interior lighting to make the cabin feel cooler or warmer. Advanced energy-saving technology coming on future Ford electric vehicles includes the vapour-injected heat pump on the new all-electric Ford E-Transit Custom. 4
As well as developing future range-boosting technologies, Ford already offers a range of useful features to maximise the efficiency of its current electric vehicles. The Mustang Mach‑E and E‑Transit offer Scheduled Pre-Conditioning to remotely optimise the cabin and battery temperature while still on charge before departure. The vehicle will assess the weather conditions to decide how much power is needed to bring them to temperature before a departure time preset by the owner. Ford estimates that a half-laden E-Transit in an external temperature of 0° Celsius will retain 75 per cent of its range if pre-conditioned, compared to 66 per cent if used without. Ford electric vehicles also offer selectable drive modes 5 to reduce energy demand for increased range, as well as the ability to recapture energy while braking.
1 Based on the parcel delivery use case and the modified test vehicle, as researched by Ford. With conventional heating systems from the aircon activated, the range decreased by around 30 per cent. By using heated surfaces for heating in combination with a reduced aircon heat, the range could be extended by around five per cent, at -7°C ambient temperature.
2 CEVOLVER was funded by the European Commission in the Research and Innovation Action Programme. The €5m project included ten partners from six European countries, with Ford receiving €1.1m towards the research.
3 These vehicle features are being developed for trial purposes only and are currently not available for purchase.
4 Targeted range and charge time based on manufacturer tested values and calculation according to the WLTP drive cycle. Actual range varies with conditions such as external elements, driving behaviours, vehicle maintenance, lithium-ion battery age and state of health.
5 Driver-assist features are supplemental and do not replace the driver's attention, judgment and need to control the vehicle. It does not replace safe driving. See Owner's Manual for details and limitations.
News
Welcome to Bright Ford
Whether you're at Bright Ford to buy something special, or just to browse, we want to offer you a very personal level of service that leaves you with a great impression and gives you an experience that shows we genuinely care about your needs.
Bright Ford is part of the Bright Motor Group, one of Ireland's most trusted vehicle retailers and our Ford dealerships are located in Airside (Swords), Phibsborough, Rialto in Dublin & Bray in Wicklow.
New and used Ford cars and vans
Discover the wide selection of new Ford cars at Bright Ford. We supply the full range including the Ford Fiesta, Focus, Puma, Mondeo, Kuga, Mustang Mach-e and more!
You can also explore the full range of Ford commercial vehicles in all of our locations. From the iconic Ford Transit van range to the Ranger pick-up truck, you'll find a Ford commercial vehicle to suit every job.
Selling quality new and used vehicles is what we pride ourselves on. We guarantee that every vehicle is prepared to the very highest standard at our own Service and Preparation Centres. You can browse our stock of "Bright As New", approved used Ford cars and vans online - get in touch today to arrange a test drive or to learn more about any of our vehicles.
Ford Service
We provide a full Ford Aftersales facility. Whatever your requirements, our team of qualified Ford technicians are here to help keep your vehicle in peak condition, with the use of sophisticated on-board diagnostic software to ensure that your vehicle is properly cared for. We have invested heavily in workshop training, both in-house and externally, to make sure that our technicians are kept up-to-date with all the latest advances in vehicle technology.