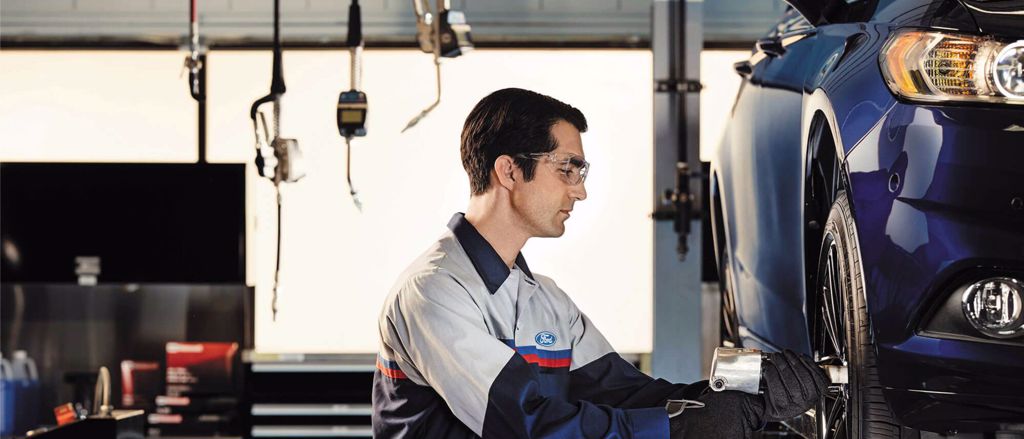 Maintenance of Tyres
All Tyres are checked during your routine service with Bright Ford
We will give you full reading of your tyre thread and condition
Maintaining Correct Tyre Pressure
There are three main reasons why maintaining the right tyre pressure is important.
Safety:
Tyres that are under inflated can overheat; and over inflated tyres can lead to poor vehicle handling on the road.
Economy:
Over or under inflated tyres suffer more damage than those with the correct pressure and need to be replaced more regularly. Vehicles with under-inflated tyres have increasedrolling resistance that require more fuel to maintain the same speed.
Environment:
Correct tyre pressures help to maintain optimum fuel efficiency. This can equate to lower Co2 emissions coming from your vehicle than those with incorrect tyre pressures and that has to be good for the environment.
Check for External Damage
Cuts, lumps and bumps are often caused by an impact between the tyre and a kerb, pothole or object in the road. If your tyre has any of these symptoms then you must have the tyre checked as quickly as possible as this sort of damage can result in sudden tyre failure.
Wheel alignment too is a very important step in maintaining and prolonging the life of your tyres. Kerbing or potholes affect your vehicles wheel alignment settings which can lead to rapid or uneven tyre wear. The car manufacturer will set your vehicles wheel alignment, so after driving it's worth a regular check to help prevent tyre wear, generally caused by incorrect wheel alignment settings.
Also emergency braking can sometimes leave your tyres with a "flat spot". This can be another reason for premature tyre removal. It is always recommended to have your tyres checked if the vehicle has been involved in an emergency manoeuvre like sudden or heavy braking. If you have any concerns or doubts about the condition of your tyres, please call for advice as soon as possible.
Bright Ford want to help you maintain your tyres.
Welcome to Bright Ford
Whether you're at Bright Ford to buy something special, or just to browse, we want to offer you a very personal level of service that leaves you with a great impression and gives you an experience that shows we genuinely care about your needs.
Bright Ford is part of the Bright Motor Group, one of Ireland's most trusted vehicle retailers and our Ford dealerships are located in Airside (Swords), Phibsborough, Rialto in Dublin & Bray in Wicklow.
New and used Ford cars and vans
Discover the wide selection of new Ford cars at Bright Ford. We supply the full range including the Ford Fiesta, Focus, Puma, Mondeo, Kuga, Mustang Mach-e and more!
You can also explore the full range of Ford commercial vehicles in all of our locations. From the iconic Ford Transit van range to the Ranger pick-up truck, you'll find a Ford commercial vehicle to suit every job.
Selling quality new and used vehicles is what we pride ourselves on. We guarantee that every vehicle is prepared to the very highest standard at our own Service and Preparation Centres. You can browse our stock of "Bright As New", approved used Ford cars and vans online - get in touch today to arrange a test drive or to learn more about any of our vehicles.
Ford Service
We provide a full Ford Aftersales facility. Whatever your requirements, our team of qualified Ford technicians are here to help keep your vehicle in peak condition, with the use of sophisticated on-board diagnostic software to ensure that your vehicle is properly cared for. We have invested heavily in workshop training, both in-house and externally, to make sure that our technicians are kept up-to-date with all the latest advances in vehicle technology.